The kettlebell halo exercise topped the 5 standing bench exercises that sculpt your core with one kettlebell round top, and there are other great benefits you can get from doing core and shoulder exercises regularly besides hitting those obliques hard.
Holding a kettlebell above your head, light or heavy, can be dangerous without good technique. Below, we'll discuss the benefits of the kettlebell halo, common mistakes, and our recommended halo options, as well as some tips for keeping your form strong, regardless of your weightlifting abilities.
As with any exercise, if you are a beginner, pregnant or returning from injury, we recommend that you speak with a medical professional or qualified personal trainer beforehand, especially if you plan to lift heavy weights.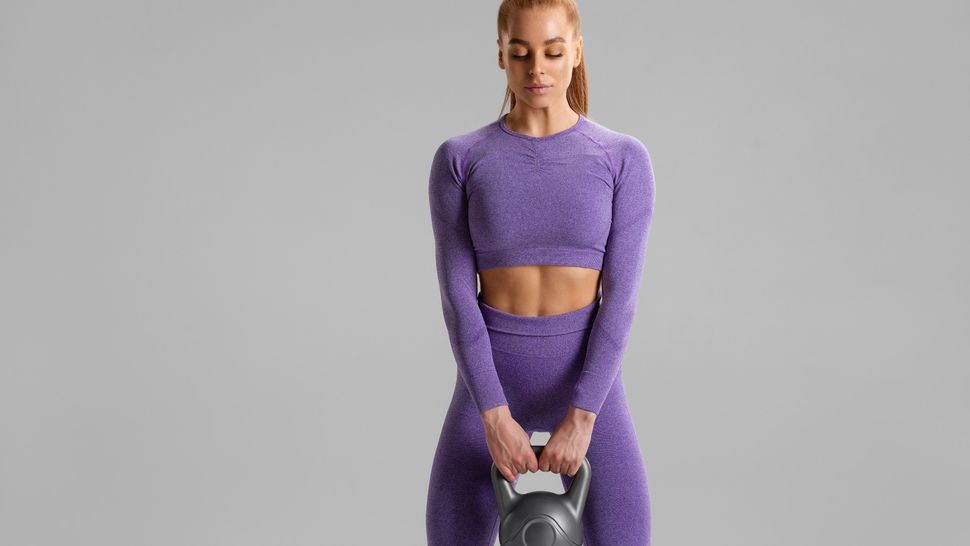 I know," sigh, "being told to back off and seek permission first is boring. But here are 7 things I wish I knew before lifting heavy weights for the first time, in case you're wondering why caution (before muscle) is important. If you're ready and going to lift, grab one of the best dumbbells for weightlifting and read more.
Kettlebell halo. Advantages:
As we mentioned, the kettlebell halo hits your shoulders and abs, but that's not all. The upper body exercise also develops shoulder mobility by activating all three shoulder heads—front, side, and back—the upper back, arms, and various core muscles that wrap around the body, not just your abs.
Your core consists of muscles like the erector spinae, which hug the spine, the transversus abdominis, a deeper layer of muscle that sits like a belt under your belly and even extends into the hip flexors and glutes. Bracing your core will help you stay safe and protected during heavy lifting and everyday tasks, so we love this exercise for developing core and shoulder stability and strengthening the many muscles responsible for posture.
How to do kettlebell halos
How:
Hold your kettlebell upside down by the horns and grip them firmly to help activate your wrists, arms, upper back and shoulders.
Brace your core and squeeze your glutes to create a stable foundation.
Press the kettlebell overhead and check that you are not arching your back or leaning forward.
From here, start swinging the kettlebell around your head in a circle with your elbows bent.
When the bell moves in front of your face, change direction. Maintain a soft knee bend and move with control.
Kettlebell halo. Common errors
Kettlebell halos target the arms, shoulders, upper back and core, strengthening the muscles of the upper body. Getting it wrong can lead to injury, so these are the most common mistakes we recommend you avoid.
Arching the back
It's common to see people thrust their hips forward and arch their back under heavier loads. Try to contract as many muscle groups as possible to create a strong support for the kettlebell movement. Pull your pelvis in slightly without slouching. An arched back indicates a lack of core engagement or that you're lifting too heavy, so focus on keeping your abs tight and your chest proud, and choose a weight you can manage.
Moving with straight arms
Your elbows should be bent during dumbbell curls so that you can swing the bell around your head instead of above it. Make sure you have enough bend in your elbows so you can control the weight at all times.
Catching up
There are several ways to hold the kettlebell during halos, but we recommend holding it by the horns with the bell upside down. You can also hold the bell itself with the handle facing up if you like, but make sure you have a secure position on the kettlebell.
Unlike the bottom-up kettlebell press, using both hands will help stabilize the weight with much less risk of falling. You can learn how to hold a kettlebell correctly with the help of some techniques explained by a master kettlebell trainer. Either way, avoid flaring your elbows out and keep the bell close to your body.
Kettlebell halo. Variations:
There are several ways to progress or decline.
Experiment with different grips and weights to find a challenging halo version for you. You can also try halo squats or squats to challenge your core stability more by taking your legs out of the equation. For some people, using a bench or chair can provide additional back support, while for others, sitting or kneeling without support adds to the challenge.
You can also add exercises to the kettlebell halo where you lunge or squat while turning the bell. If your coordination is lacking, move into a low lunge or squat position, then rotate the kettlebell from a holding position; this combines an isometric (non-moving) isotonic (moving) contraction and increases the demand on your core muscles.
If you're not sure you can handle the kettlebell above your head, our fitness editor does 50 kettlebells a day around the world for a week. here's what happened. Instead, he rotated the bell around the hips, which helped work the arms and abs, improve grip strength and engage the upper body.
More from Tom's Guide
#Kettlebell #halo #exercise #benefits #core #shoulder #muscles
Image Source : www.tomsguide.com